DinnerLab Review - Columbus - December 2nd
About DinnerLab
DinnerLab is a company that runs what are known as pop up restaurants. You buy tickets for a unique and one of a kind event that will only exist for one night. They setup a dinner in a random place in your town and get a great chef to cook up an amazing meal.
Location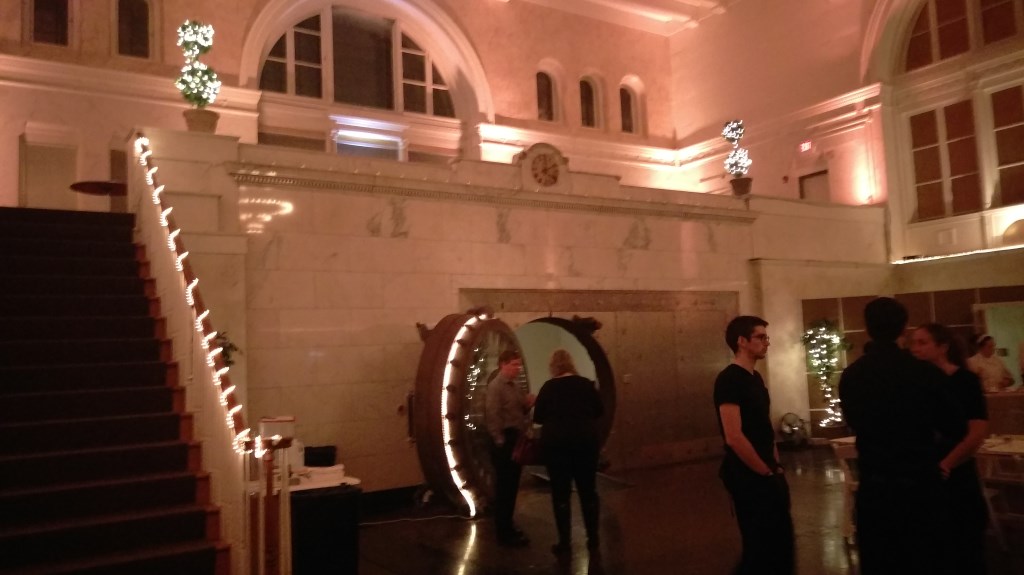 As is always the case, every DinnerLab is held in a new and exciting location that you only find out about the day before the event.
The dinner was being held at an old bank that has been turned into a event location called The Vault downtown on Gay Street.
Chef
Chef Matt Hoecker came in from Waterloo, IA to prepare our exciting meal for the evening.
Theme
The theme for the dinner was "Uphill Both Ways: Survival Techniques For A Midwest Winter". The menu was about embracing the cold season finding meals to warm your soul.
Menu
First Course
Torn Rye Panzanella
roasted butternut squash | parmesan & ricotta | sherry-sage vinaigrette
Wow this was a power hitter for first course. The parmesan / ricotta was extremely heavy. The vinaigrette helped cut though but it needed more to work out.
Second Course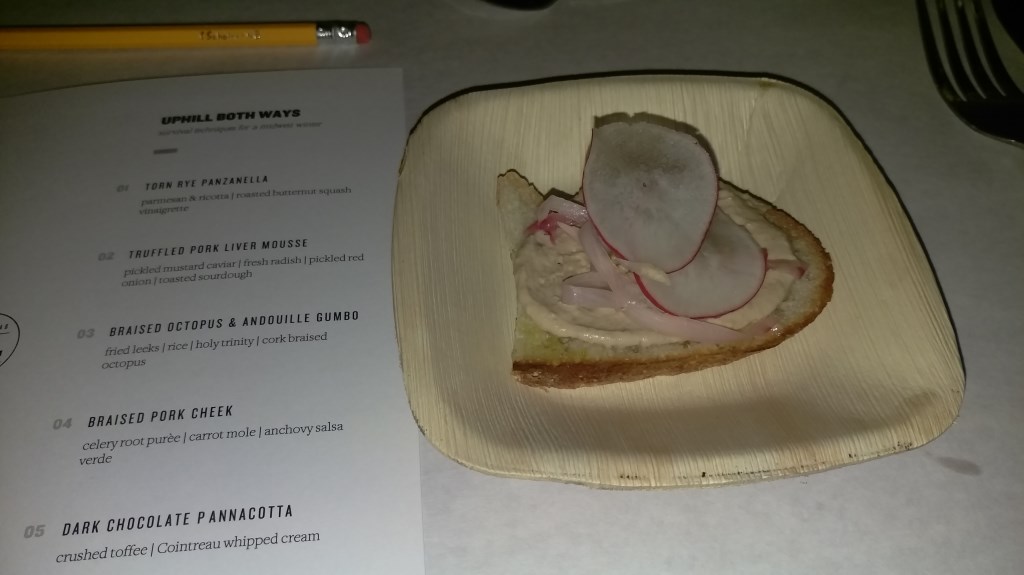 Truffled Pork Liver Mousse
pickled mustard caviar | fresh radish | pickled red onion | toasted sourdough
The pork liver mousse was delicious and when mixed with the radish on the sourdough made for a very nice course.
Third Course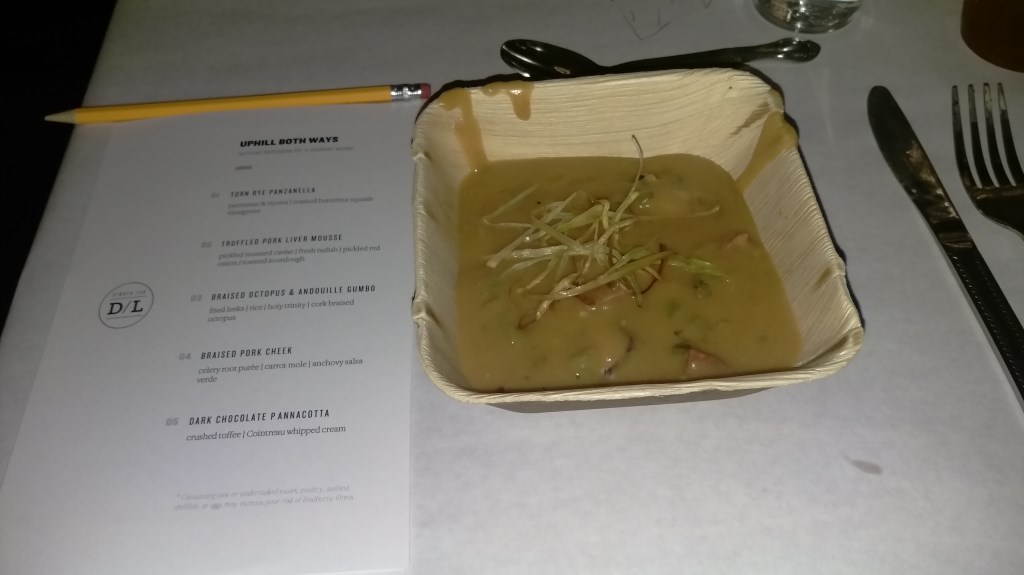 Braised Octopus & Andouille Gumbo
fennel & fried leeks | rice
This was a gumbo with andouille and octopus. It was a great mix of spice from the sausage and the oceany flavors from the octopus.
Fourth Course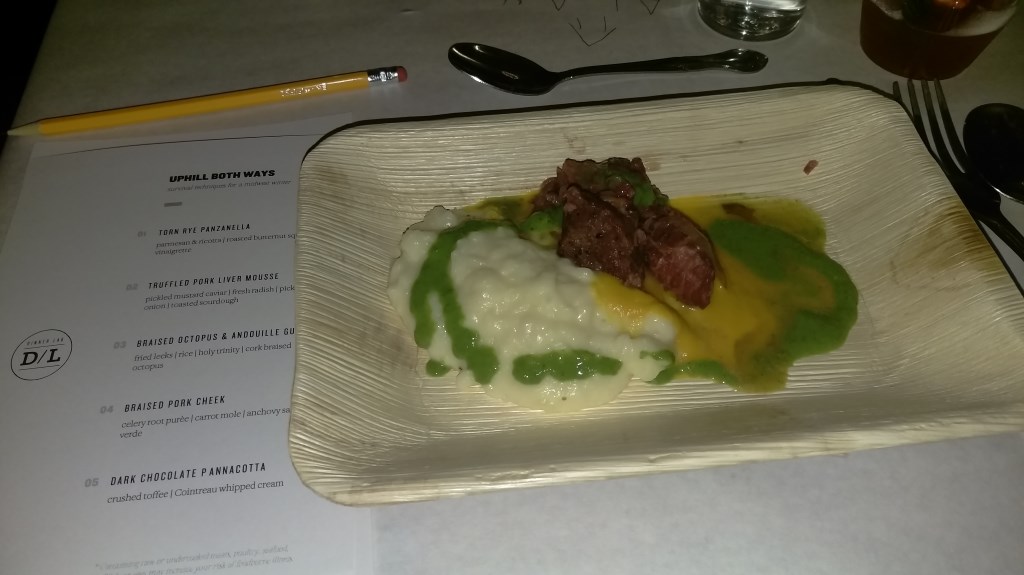 Braised Pork Cheek
celery root puree | carrot mole | anchovy salsa verde
The celery root puree could almost have been mistaken for mashed potatoes and worked very well matched with the pork cheek that was fatty and yummy.
Fifth Course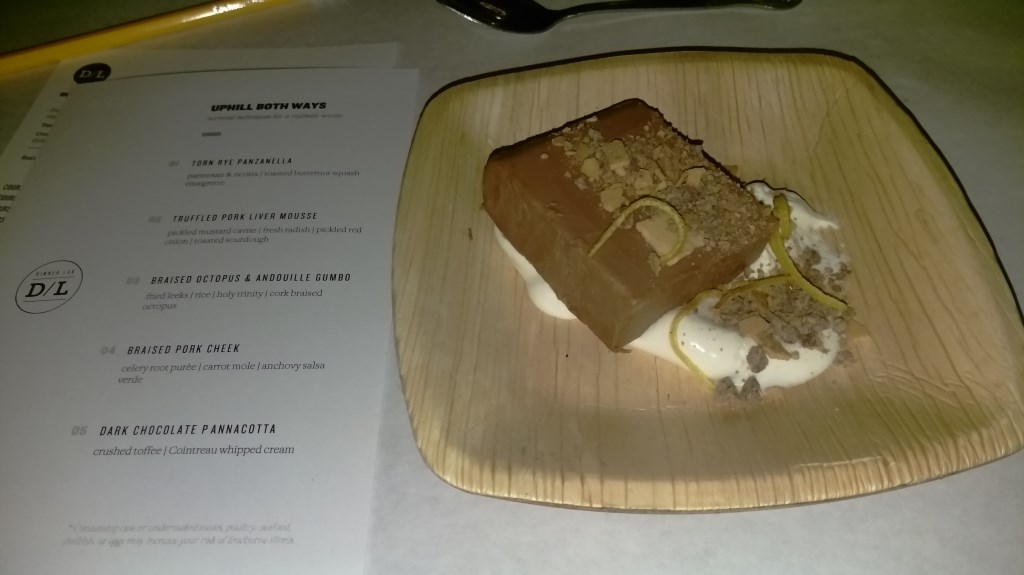 Dark Chocolate Pots de creme
crushed toffee | Cointreau whipped cream
Another very rich and heavy chocolate desert. It was like a flourless chocolate cake and tasted very good. It was honestly almost too much to finish it was so rich.
Final Thoughts
What a wonderful location for the event. The old bank has been turned into a very cool facility for events. The bar is setup inside the old vault and it makes for a fun time walking inside to get your drinks.
The chef did a great job on the meal and it did feel like a well done representation of winter comfort foods.
For more information and to sign up check out DinnerLab.com!