DinnerLab Review - Columbus - July 22nd
This is my first review of DinnerLab but it is not the first DinnerLab event that I have attended. As of this post I have attended 4 of the 5 events that have been hosted here in Columbus, including the inaugural event. I'm not bragging just being a bit hipster!
About DinnerLab
First up for those of you that do not know about DinnerLab let me give you a brief introduction to what is probably the coolest thing for foodies.
DinnerLab is an organization that runs what many might have called in the past a private supper club. For a small membership fee you join DinnerLab which gives you access to a website in which you can then have the option of buying tickets for limited seating unique and original dinning events. They find exciting chefs to create unique menus and then setup an event in different locations around your city to host a one or two night tasting event for members. Every dinner is a different chef, with a unique menu and an original event location.
Ok, maybe that's a bit of a fluff description. Simply put, go join DinnerLab and then you can attend cool dinner parties at neat locations.
Location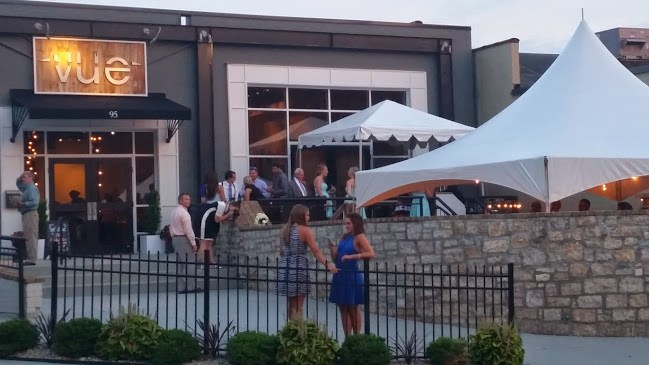 Every DinnerLab is hosted at a different location. Part of the fun of DinnerLab is that they don't tell you where it will be until the day before the event. You never know where it will be, maybe an old factory or a hip downtown venue. You just have to wait and be surprised.
This event was hosted at an event venue called Vue in the the area known as The Brewery District. It's a very nice modern urban feeling venue. If you get the chance to visit you should check it out.
Chef
For the dinner they tapped Chef Russ Bodner who is currently an Executive Sous at the Aspen Mountain Club.
Theme
Every event has a theme. For this evening it was "Anthos: Greek Interpretations From A Lost Restaurant". From what the chef explained he was inspired to create a menu inspired by time spent in a Michelin starred, Greek NYC restaurant.
##Menu
First Course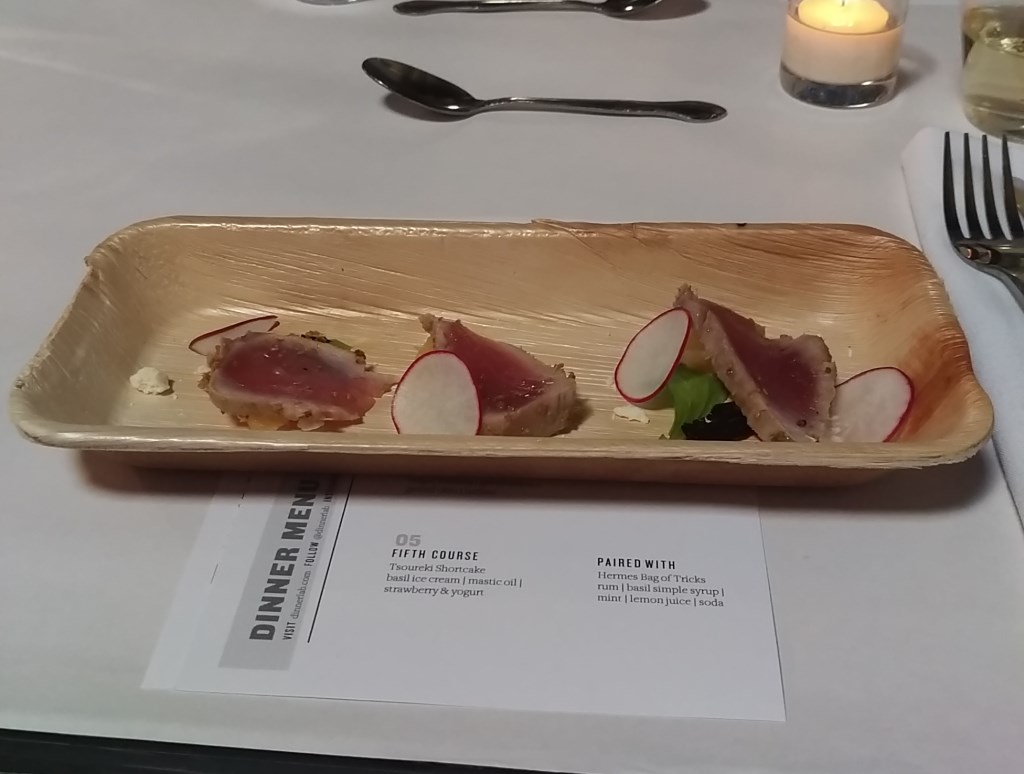 Lightly Seared Tuna
fennel pollen crust | thassos olives | dehydrated feta | orange vinaigrette
The tuna was perfectly seared rare and the combo of feta, olives and vinaigrette made a very nice flavor combo.
Second Course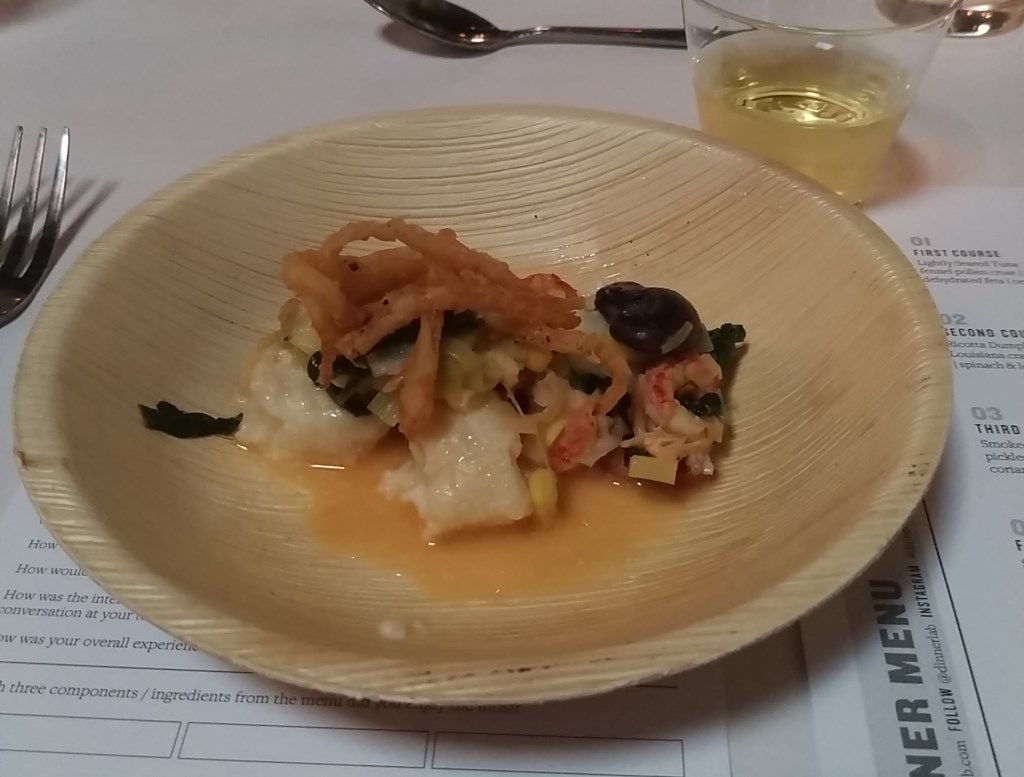 Sheep's Milk Ricotta Dumplings
Alabama crab | crispy tobacco onion | spinach & leek
The dumplings were cheesey and delicious and the chunks of crawfish worked well. I wasn't a fan though of the onion or spinach.
Third Course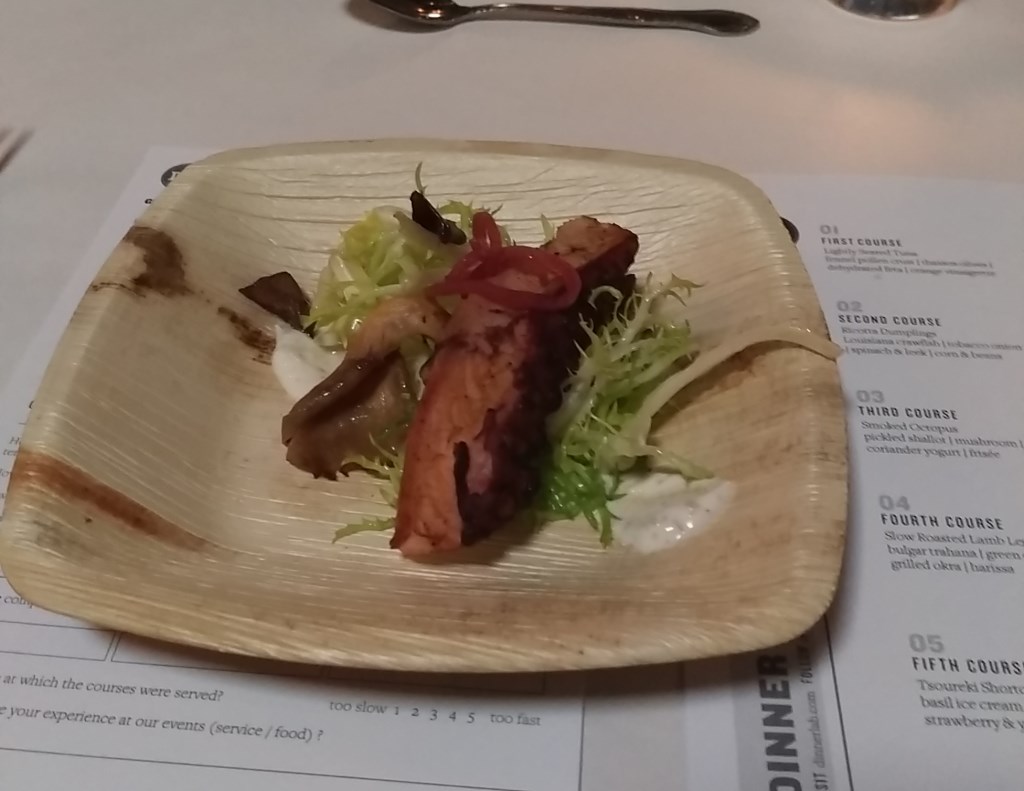 Smoked Octopus
pickled shallot & mushroom | coriander yogurt | frisee
The octopus was nicely cooked with the smoked flavoring being a first for me. The yogurt and shallots married well to balance the strong smoke flavor.
Fourth Course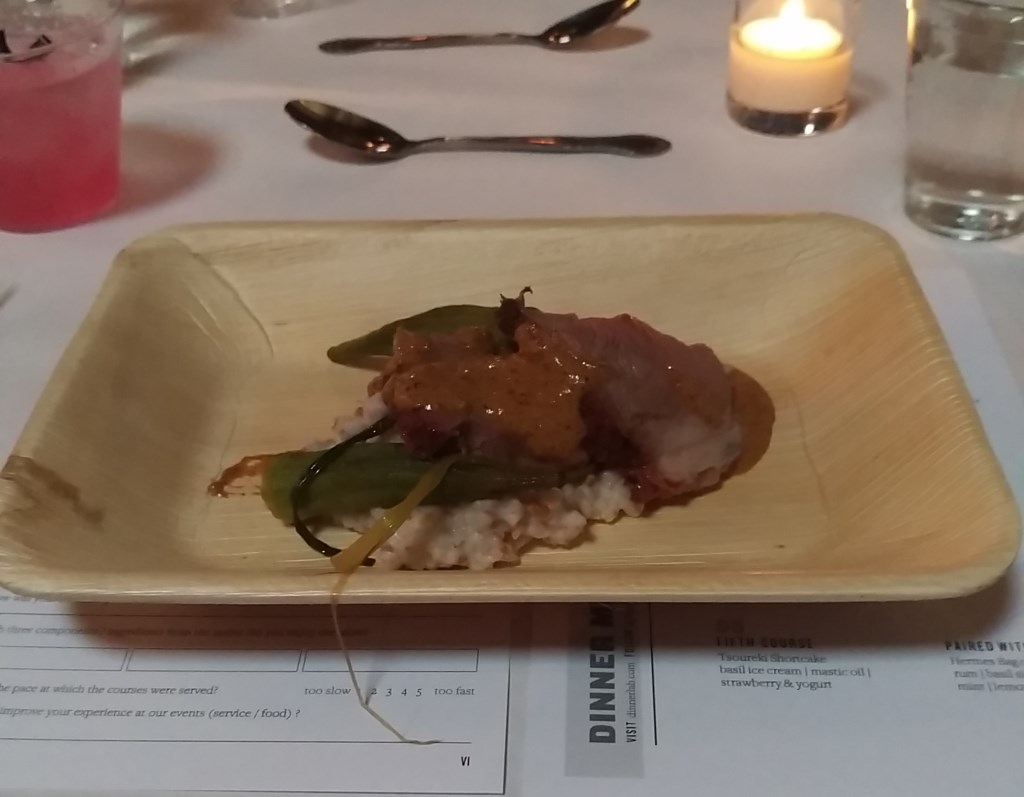 Slow Roasted Lamb Shoulder
bulgar trahana | baby vidalia | grilled okra | lamb jus
The lamb was light and tender and I very much enjoyed it. The bulgar trahana worked well to be matched with lamb. I wasn't a big fan of the okra though.
Fifth Course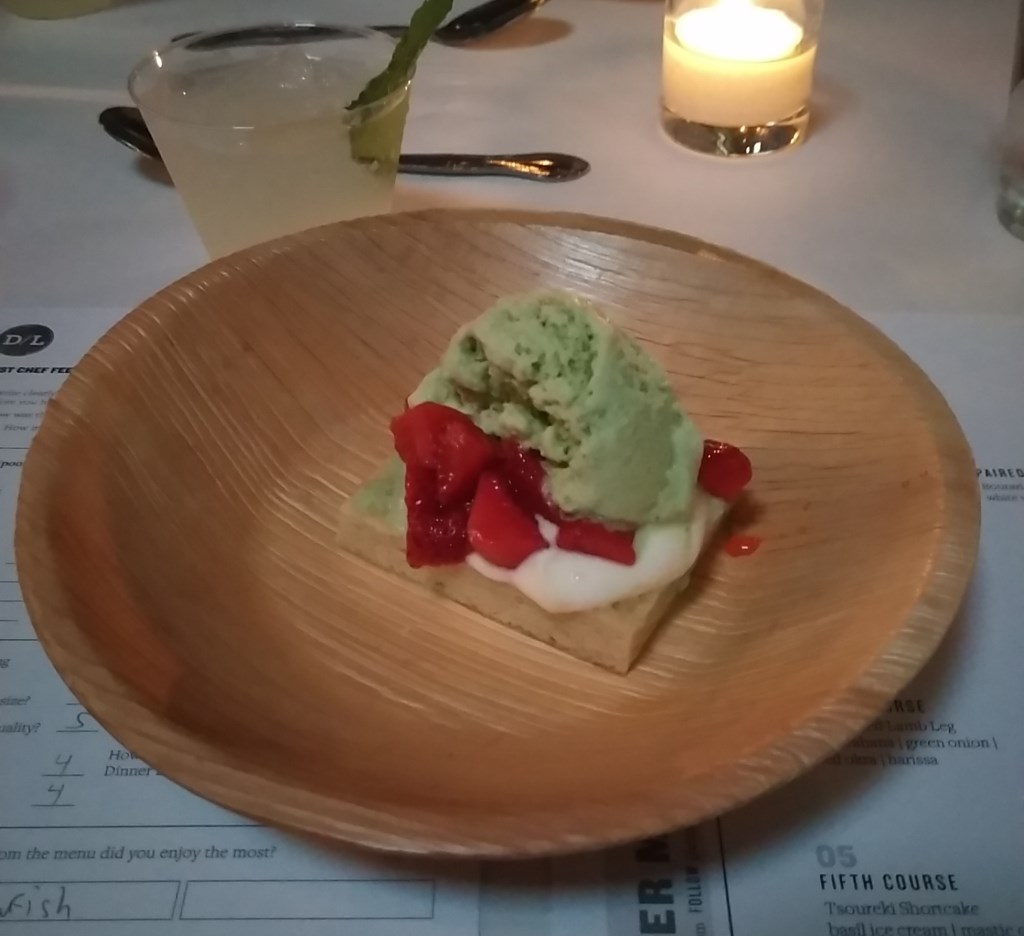 Tsoureki Shortcake
basil ice cream | mastic oil | strawberry & yogurt
A rather unique take on dessert. What would seem just a run of the mill strawberry shortcake was completely changed by basil flavored ice cream. It was an excellent ending to a fine dinner.
Wondering About the Price?
For those reading this, I'm sure you're probably thinking after seeing that 5 course meal what the cost of such a fine dining experience is. A one year membership will run you around $125, then tickets for events will run between $40 and $70 per person. If you're used to eating at Applebee's then yes this seems expensive but for the caliber of meal you will be eating it's actually a very good deal.
Final Thoughts
So there you have it, DinnerLab is the fun and exciting activity for the foodie. The current manager for the City, a temporary position held by a person from California, has said that the signup rates for Columbus have been growing faster than expected and DinnerLab is really excited about the buzz they are seeing. I can already believe that as I think most events have been selling out rather quickly.
As long as the crew keeps up the great job of finding good chefs and cool original locations to host the events I will be a member and continue to attend events. It's always a great activity and date night.
For more information and to sign up check out DinnerLab.com!