DinnerLab Review - Columbus - November 13th
About DinnerLab
DinnerLab is the coolest pop up restaurant that you need to check out. They find great chefs and invite them to create unique and inspiring 5 course tasting meals. The events are hosted in a different location each time so you will get the chance to visit new locations around your town.
Location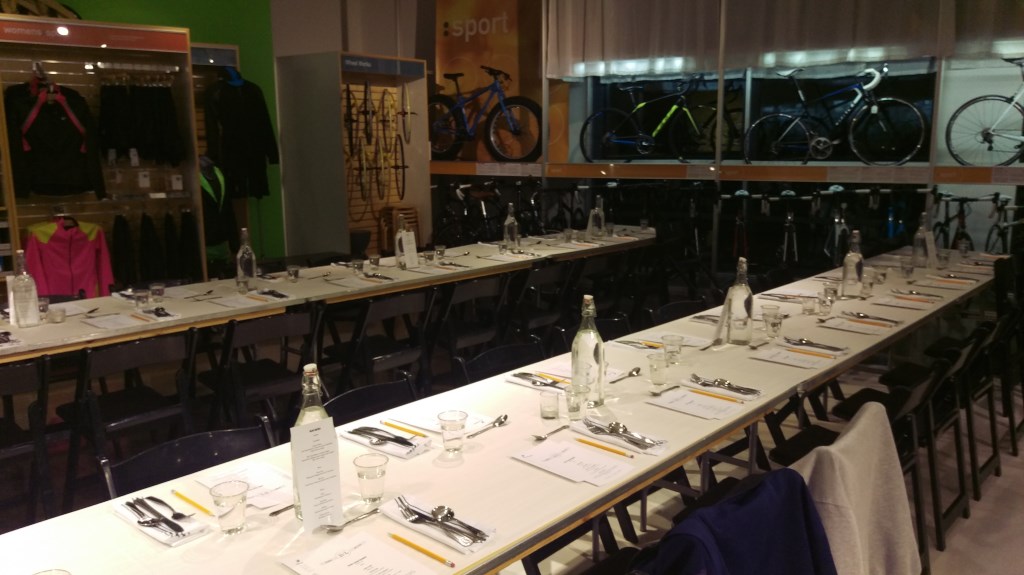 Every event is held in a location that is different and new. You are told the day before the event where to go.
As part of the french theme the event was held at the bike shop Roll: on Lane Avenue. This was selected as a reminder of the famous french bike race Le Tour de France.
Chef
Chef Dain Raner from Seattle, WA was the creator of the dinner for the night.
Theme
The theme for the dinner was "The French Connection: Barely Legal Cuisine". It was inspired by the movie the French Connection and composed of smuggled culinary secrets, tied together with pro techniques.
Menu
First Course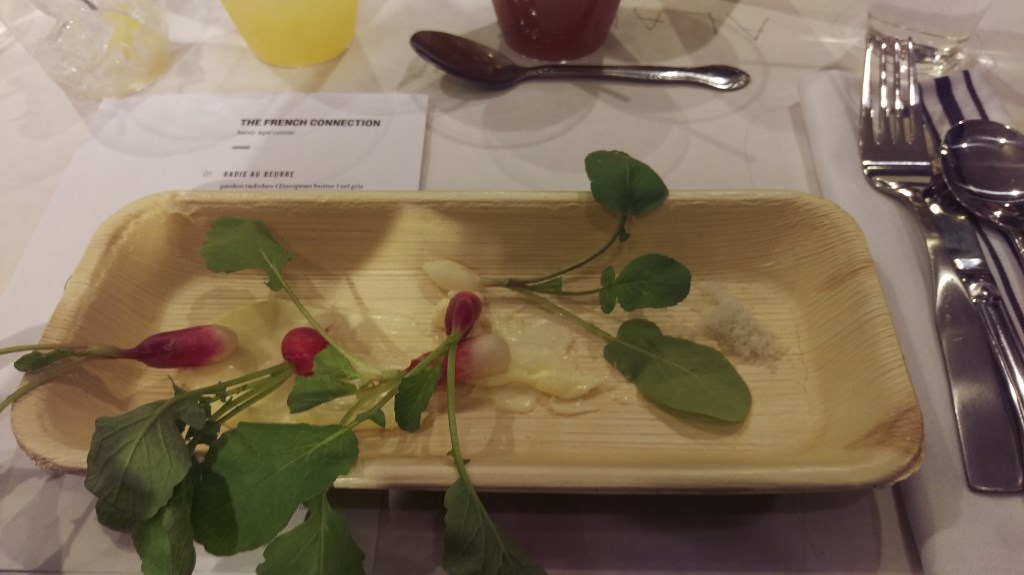 Radis au Beurre
garden radishes | European butter | sel gris
Where to start, delicious fresh radishes dipped in butter and salt. It sounds silly but tastes yummy!
Second Course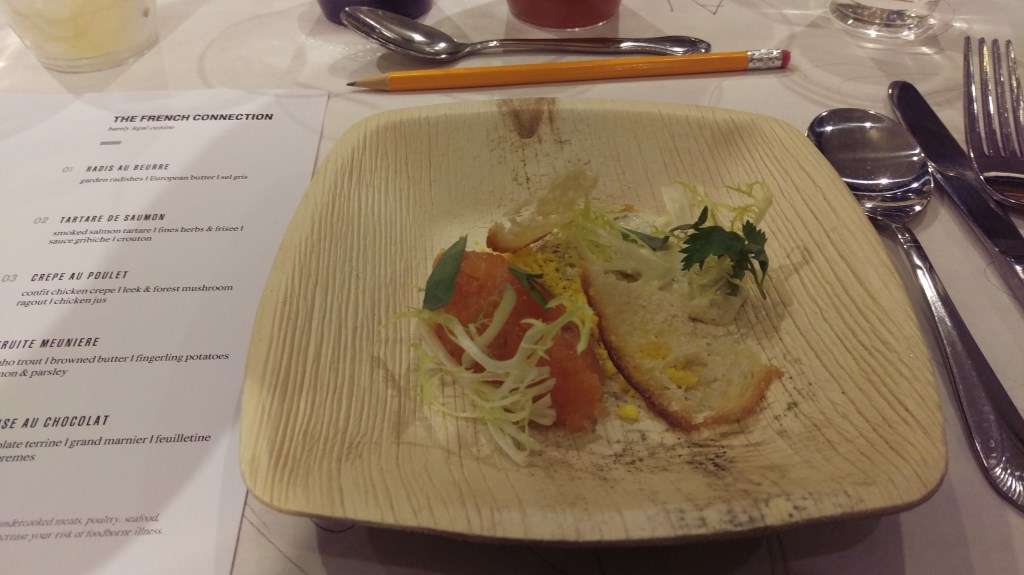 Tartare De Saumon
smoked salmon tartare | fines herbs & frisee | sauce gribiche | crouton
A wonderful smoked salmon tartare and toasted slice of break with a light herb salad. The flavors were well balanced between fresh and rich.
Third Course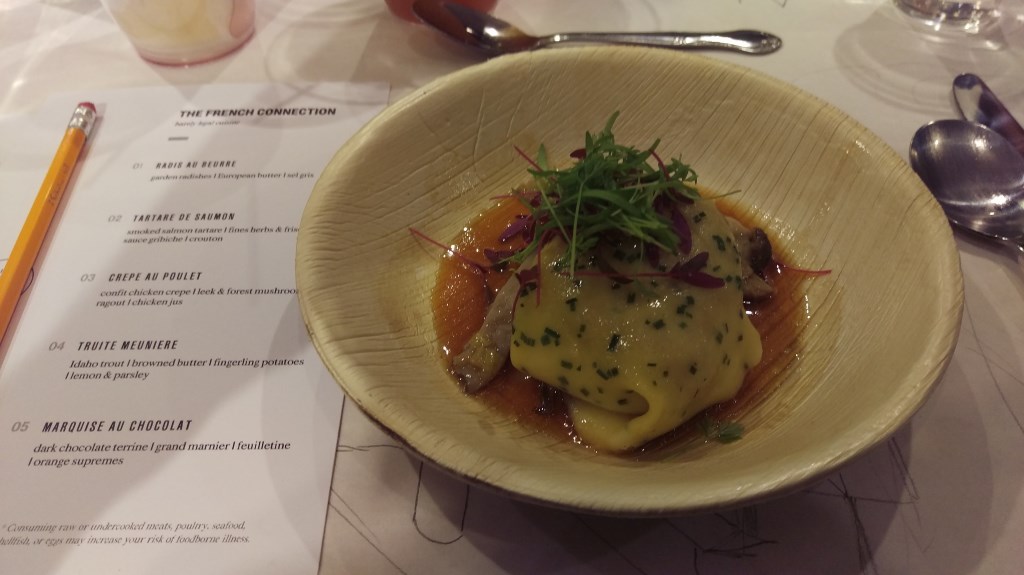 Crepe au Poulet
braised chicken crepe | forest mushrooms & baby vegetables | chicken jus
A tasty crepe filled with shredded chicken in a salty jus.
Fourth Course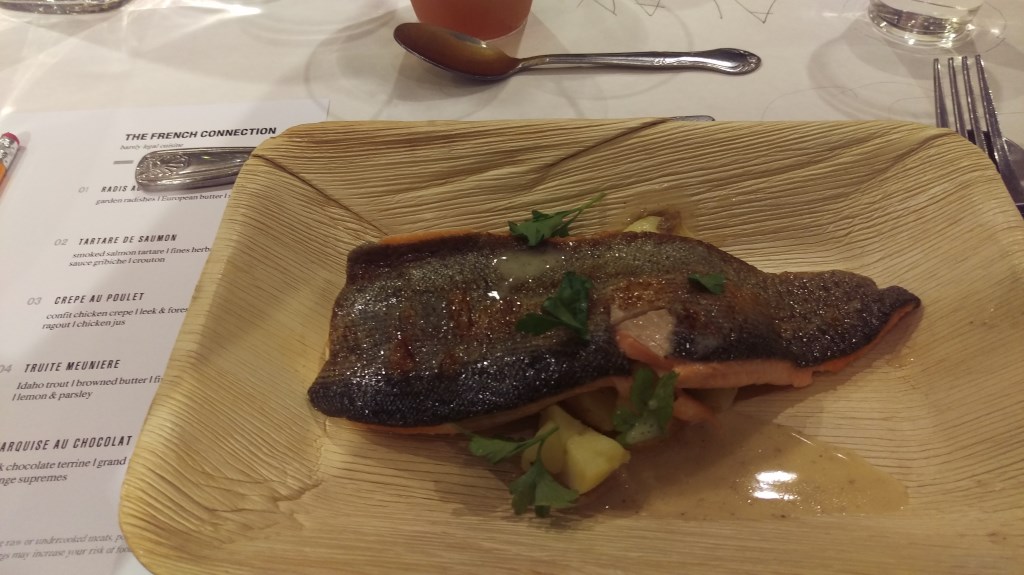 Truite Meuniere
Idaho trout | browned butter | marble potatoes | lemon & parsley
This was just divine. The trout was well cooked in a brown butter sauce and the potatoes were soft and fluffy.
Fifth Course
Marquise Au Chocolat
dark chocolate terrine | grand marnier | feuilletine | burnt orange
This was rich and delicious desert. The chocolate was well paired with the grand marnier.
Final Thoughts
This event was french themed and as fate would have it was the same night as the Paris terrorist attacks. I really enjoyed the food and conversations and everyone's heart went out that night to be in solidarity with the French people.
For more information and to sign up check out DinnerLab.com!