DinnerLab Review - Columbus - October 2nd
About DinnerLab
What is DinnerLab? It's the thing you need to check out now! DinnerLab is a pop up restaurant that will be hosted in a different and unique location every time. A top notch chef will come and create a special meal that will wow your tastebuds.
Location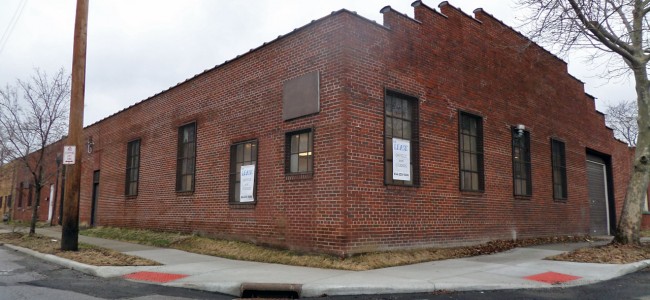 One of my favorite parts about DinnerLab is that they keep the location secret until the day before. For this nights event we would be dining at The Ethical Arts Collective.
Their location is an old warehouse in Franklinton on Rich Street.
Chef
Chef Stephen Eldridge of Long Beach, California came in to prepare for everyone a wonderful meal.
Theme
The theme for the dinner was "Circadia". Inspired by the idea of the circadian rhythm the chef created a menu that includes inspirations from all the meals in a day.
Menu
First Course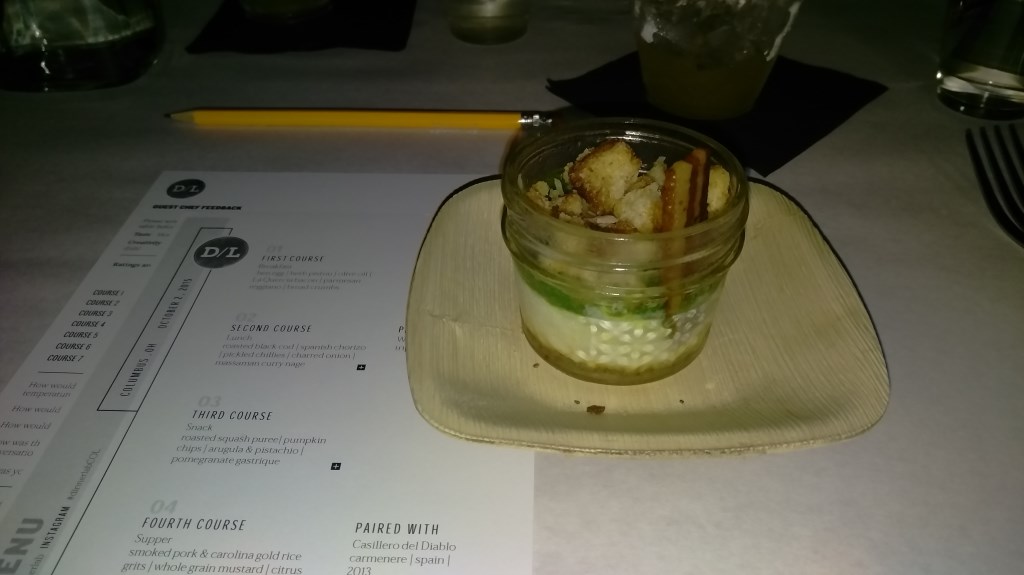 Breakfast
hen egg | herb pistou | olive oil | la quercia bacon | parmesan reggiano | bread crumbs
This Breakfast in a jar was great. Perfectly balanced mix of bacon, eggs and cheese.
Second Course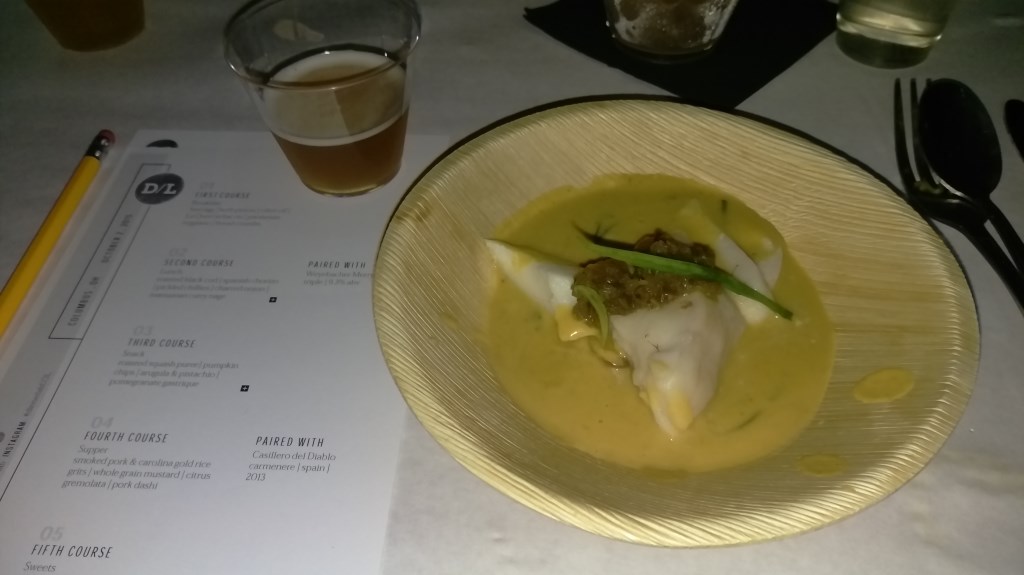 Lunch
roasted black cod | spanish chorizo | picked chillies | charred onion | massaman curry nage
The cod was a bit plain and could have cooked a bit longer but it paired nicely with the curry.
Third Course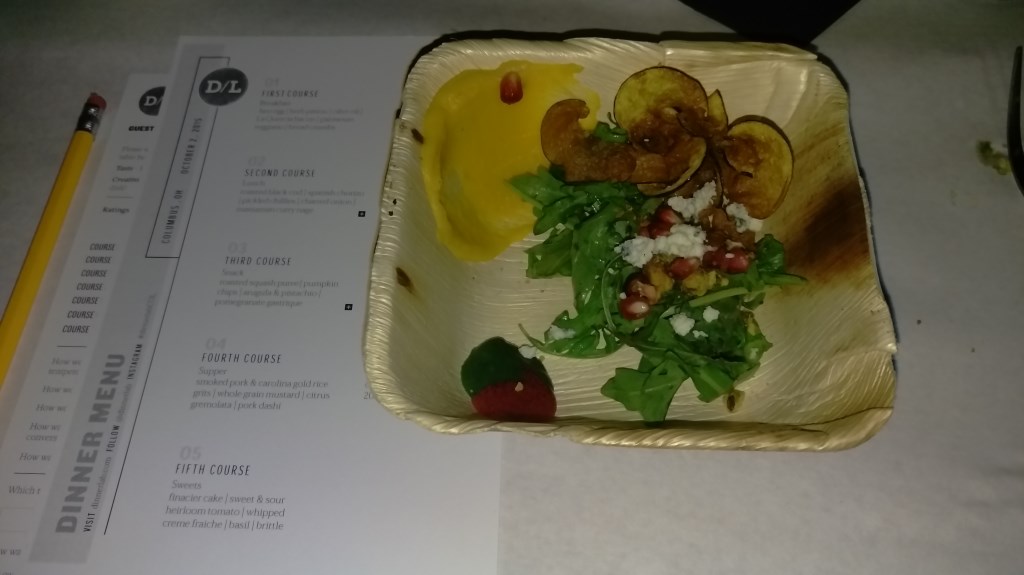 Snack
roasted squash puree | pumpkin chips | arugula & pistachio | pomegranate gastrique
I wouldn't exactly call this a snack in the traditional sense but it had a great combo with the squash and arugula salad.
Fourth Course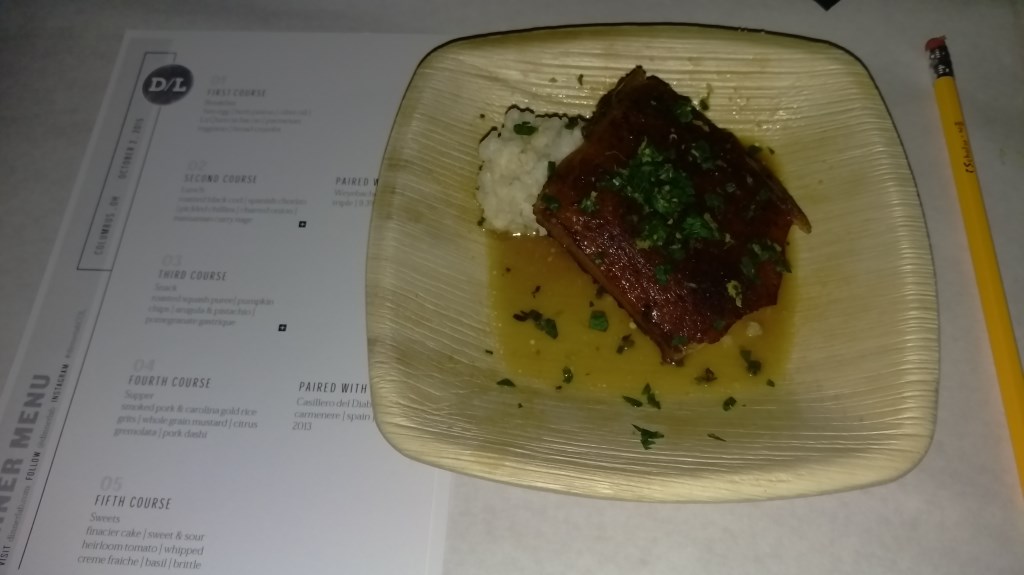 Supper
smoked pork & carolina gold rice grits | whole grain mustard | citrus gremolate | pork dashi
I am a pork head and this was perfectly cooked and just the right amount of smoke flavor. Well matched with the rice grits and mustard.
Fifth Course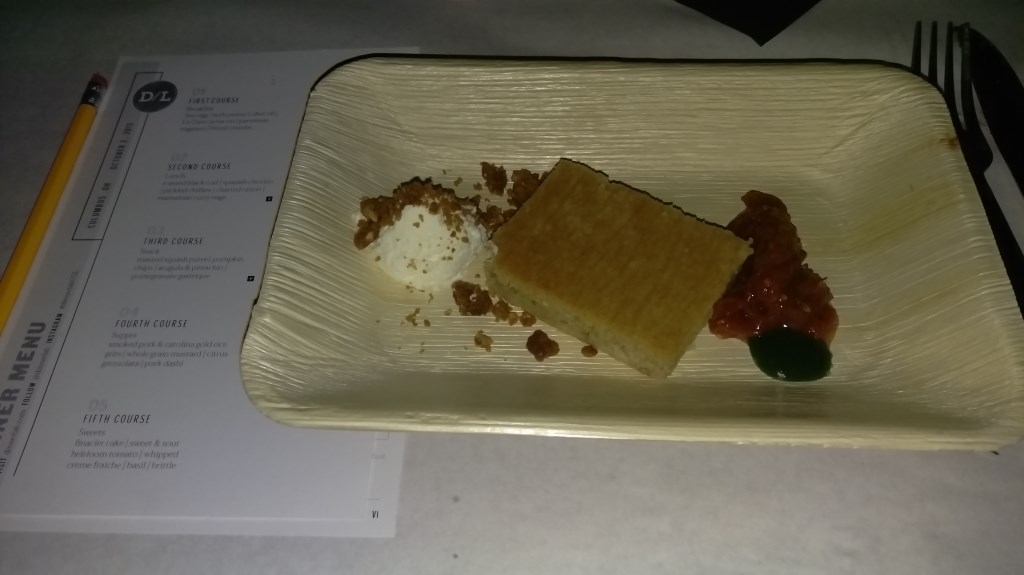 Sweets
finacier cake | sweet & sour heirloom tomato | whipped creme fraiche | basil | brittle
I didn't really get the tomato and basil but the cake and creme fraiche was a very nice end to the meal.
Final Thoughts
This was probably my least favorite location. The building was rather run down and it happened to be a cold wet evening. However the food made up for the location and I enjoyed taking a walk though the meals of the day.
For more information and to sign up check out DinnerLab.com!