My Workstation 2015
I'm a tech nerd and like most nerds, I like to show off my home workstation.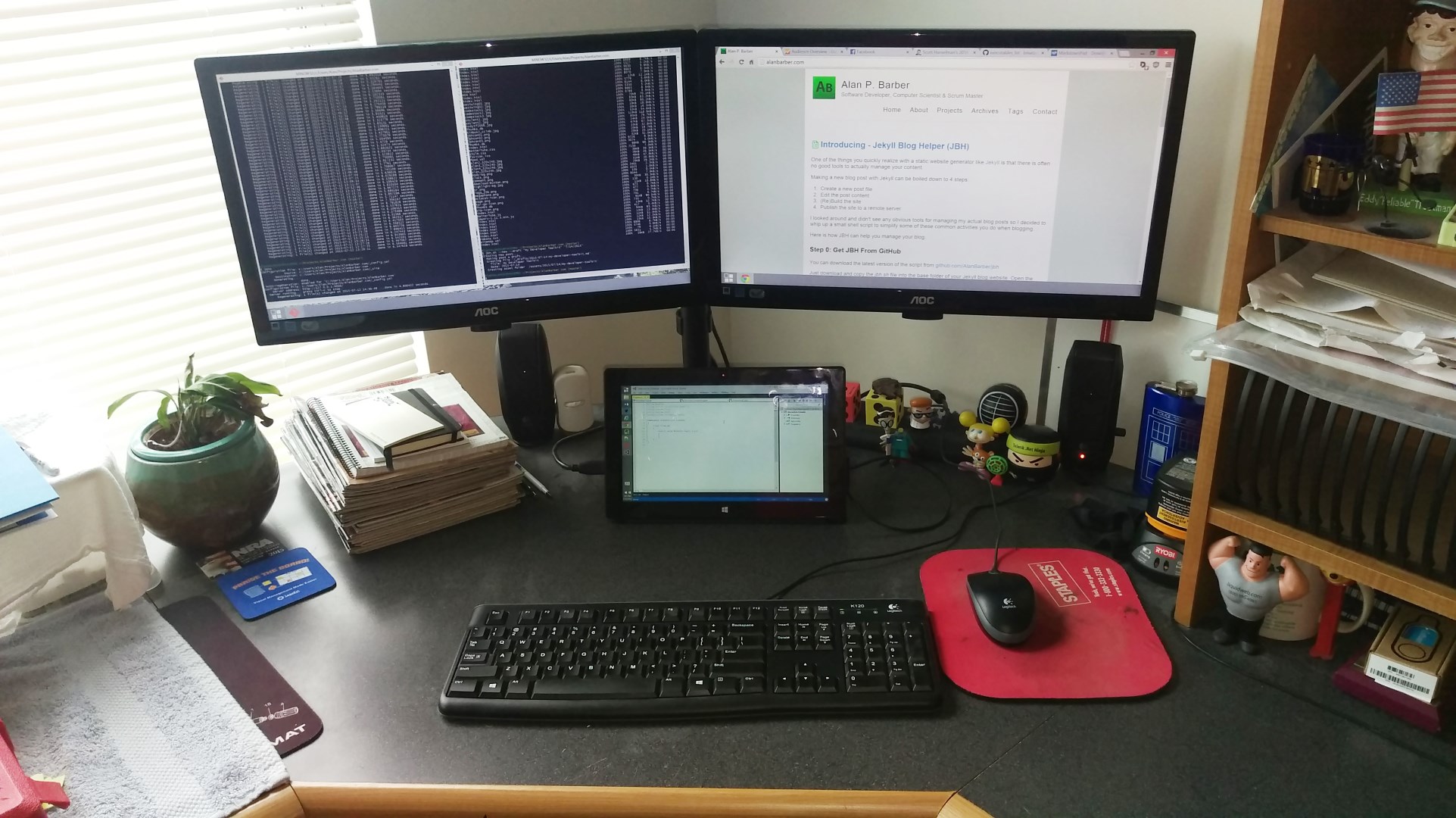 My Surface & It's Home Base
Here are the specs and details of my home workstation:
Computer: Microsoft Surface Pro 2
It's the model with 8GB ram and a 256GB ssd hard disk. It may be small but it's a pretty powerful tablet computer. I installed a 64gb SD card to give me extra storage space for movies and music. It's actually decent at playing games. If you don't belive me check out SurfaceProGramer on youtube. He does a great job showing just how to tweak games to make them playable on Surfaces.
Battery life is great for casual use. It's pretty normal for me to get 6-8 hours of time on a charge when using it. If you play games or watch movies the time will drop down to a couple hours at best but that's to be expected.
USB Dock: ASUS HZ-1 USB 3.0 Docking Station
I pick this up on sale at Microcenter. It's powerful enough to drive 2 22" monitors , play audio and run a 100mb ethernet connection on a single USB 3.0 port.
Monitors: 2 x AOC 22" Class 1090p Monitors
I picked these up on sale at Microcenter for dirt cheap. It's a basic 22 inch 1920x1080 resolution monitor that works fine for basic text and minimal video activity.
Monitor Stand: Inland DLB103 Dual Desktop Monitor Stand
A bit expensive and not that easy to install but well worth it to have space on my desk not being taken up by two large monitors.
Keyboard & Mouse: Logitech MK120 Mouse & Keyboard
I needed a keybard and mouse and this was dirt cheap at Walmart. Someday I would like to get a high end pro board like a DasKeyboard but for right now the Logitech works well enough.
Speakers: Logitech S120 Stereo Speakers
Same as the keyboard, I needed an external speaker set and these looked nice and cheap. Not the greatest for audiophiles but it's loud enough for casual listening.
File & Media Server
Besides my workstation I have a home file and media server. It's a PowerSpec S130 Server with the following specs:
Windows Small Business Server 2011
Intel i5-2310 cpu
16GB ram
OS Drive - 2 x 320GB Western Digital Blue Hard Drives in raid 1
Data Drive - 2 x 500GB Western Digital RE4 Hard Drives in raid 1090p
Media Drive - 1 x 1.5TB Seagate Barracude Green Hard Drive
Backup Drive 1 - 1.5 TB Western Digital My Book Elite External USB 2.0
Backup Drive 2 - 1.5 TB Western Digital My Passport External USB 3.0
This stores most of my files, onsite backups as well as media that I access via Plex Media Server