The Power of TED* (*The Empowerment Dynamic): 10th Anniversary Edition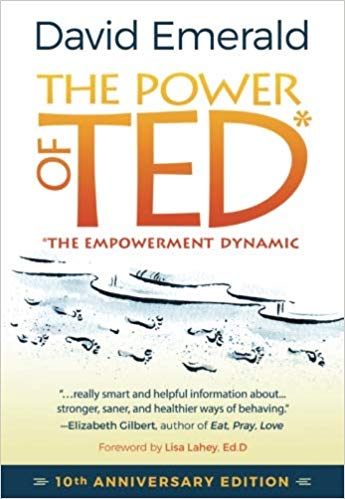 The Power of TED* (*The Empowerment Dynamic): 10th Anniversary Edition by David Emerald
This was the selected book for my companies Kaizen Book Club
First off, at only 176 pages, this is a very fast read. In fact, I burned through the book in under 4 hours of casual reading. Now don't take that as a negative point, to the contrary I think it's a positive. It's just long enough for the writer to get the message across without lots of unnecessary fluff and filler.
Second, I found the book to be interesting in that the writer chose to teach you about The Empowerment Dynamic by telling it as a story. Instead of a boring self-help book, you are told the story of a man in crisis who meets another man.
This story teaches you about the Karpman Drama Triangle with its roles of Victim, Persecutor, and Rescuer.
The Empowerment Dynamic (TED) is seen as a replacement to this model with roles that include Creator, Challenger and Coach. It's seen as a positive approach to life's challenges that focus on ones transformation to create satisfying and fulfilling relationships in both their personal and professional life.
I would say that the story is a bit simple but works to guide you though the process of learning about The Empowerment Dynamic. It does a good enough job of giving real world examples that most people even if they have not personally experienced, would be able to connect with.
If you're tired of being a victim and want to learn to take control of your life then I encourage you to pick up a copy of this book and read it.